A gunman motivated by hate and dressed in tactical gear killed 10 people and wounded three others Saturday afternoon at a Buffalo, New York, supermarket, officials said.Officials said he streamed the attack on a social media platform. The suspect, an 18-year-old white man dressed in tactical gear was taken into custody after shooting 13 people…
A gunman motivated by hate and dressed in tactical gear killed 10 people and wounded three others Saturday afternoon at a Buffalo, New York, supermarket, officials said.
Officials said he streamed the attack on a social media platform.
The suspect, an 18-year-old white man dressed in tactical gear was taken into custody after shooting 13 people at the Tops Friendly Market supermarket, Buffalo Police Commissioner Joseph Gramaglia said.
Officials did not say what platform he was using to stream the shooting, but a Twitch spokesperson said the platform has investigated and confirmed that the stream was removed "less than two minutes after the violence started."
"This was pure evil," Erie County Sheriff John Garcia said at a news conference. "Straight up racially motivated, hate crime from somebody outside of our community — outside of the City of Good Neighbors, as the mayor said — coming into our community and trying to inflict evil upon us."
Four store employees, including a security guard who was a retired Buffalo officer, were among the victims. Eleven of the shooting victims are Black, two are white, Gramaglia said.
ECMC Hospital in Buffalo said it was treating three victims and all were stabilized. One patient was discharged Saturday night, the hospital said.
Additional information about the victims has not been released.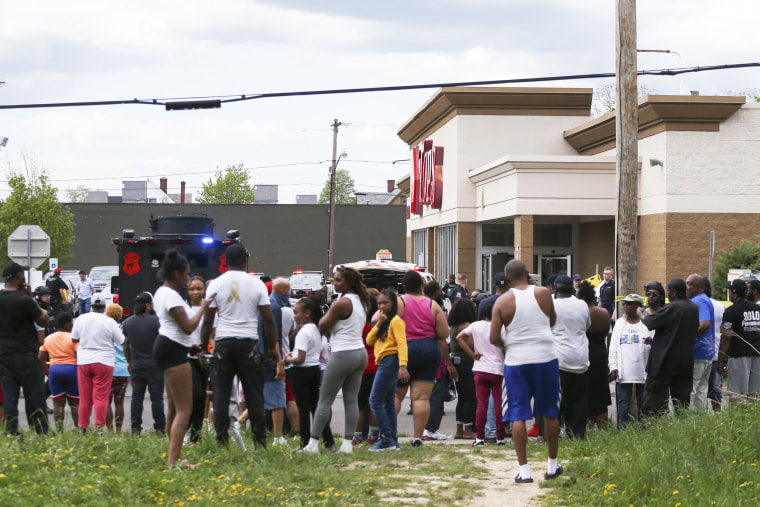 In a written statement Saturday evening, Attorney General Merrick B. Garland said the Justice Department is " is investigating this matter as a hate crime and an act of racially-motivated violent extremism."
"The Justice Department is committed to conducting a thorough and expeditious investigation into this shooting and to seeking justice for these innocent victims," Garland said.
The suspect, Payton S. Gendron, of Conklin, New York, was arraigned Saturday evening in Buffalo City Court on one count of murder in the first degree, the Erie County District Attorney's Office said.
He was remanded without bail and a felony hearing was scheduled for Thursday morning, according to the office.
Buffalo Mayor Byron Brown said the suspect "is from hours away and drove to Buffalo" to commit the crime.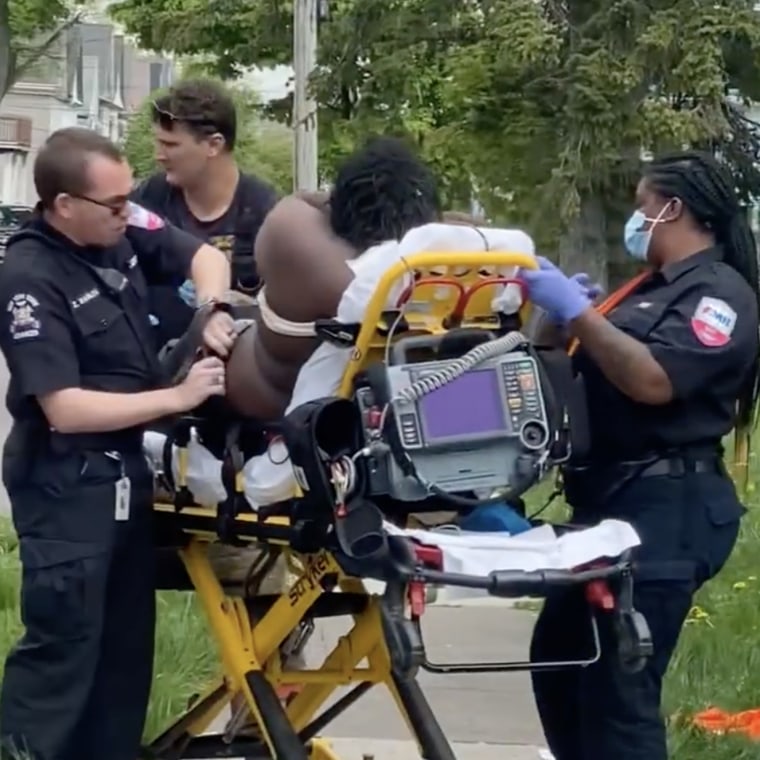 "This is the worst nightmare that any community can face," he said.
Brown said he had helped bring the Tops Friendly Market on Jefferson Avenue to the Black community and that many people he knew, as well as his own family, patronized the store.
A heavily armed man wearing tactical gear went to the store on Jefferson Avenue about 2: 30 p.m. and opened fire in the parking lot. He fatally shot three people and wounded one before entering the store and continuing to shoot, Gramaglia said.
A security guard returned fire but because the suspect had on ballistic protection, the rounds didn't appear to penetrate. The suspect returned fire and fatally shot the guard, the said.
The suspect then continued to walk through the store shooting, he said. Responding Buffalo officers engaged the suspect in the store's vestibule, and the man responded by putting a gun to his neck, the commissioner said.
The officers talked him into surrendering, Gramaglia said. He removed his tactical gear before officers took him into custody, he said.
At least two rifles have been recovered from the scene, according to law enforcement sources. Officials at the press conference said the shooter used a semiautomatic rifle.
The suspect appeared to have the N-word written or etched on one of the weapons, law enforcement sources said.
A senior law official said the suspect's parents are distraught and cooperating with authorities. They said their son recently and legally purchased the weapons used in the shootings, the law enforcement official said.
Investigators are looking into where and how those weapons — a semiautomatic rifle, a hunting rifle and a shotgun — were purchased, the official said.
A spokesperson for Twitch, the live-streaming service that the suspect apparently used during the shooting, said the platform has a "zero-tolerance policy against violence of any kind and works swiftly to respond to all incidents."
"The user has been indefinitely suspended from our service, and we are taking all appropriate action, including monitoring for any accounts rebroadcasting this content," the spokesperson said.
New York Governor Kathy Hochul said at an evening press conference that social media should have some ethical and perhaps legal responsibility for events related to the attack, including "radicalizing" mass shooters. The hosting of the live stream, she said, was "absolutely shocking."
Continued gun violence in the Unites States, she added, must cease. "Yeah, I'm angry," Hochul said.
Regarding a potential motive, Erie County District Attorney John J. Flynn said, "Certain pieces of evidence ascertained … indicate some racial animosity."
An apparent manifesto with Gendron's name, a shared birthdate, and biographical details in common with the suspect, was posted to Google Docs on Thursday night. 
In it, he claims he was radicalized on an extremist 4chan forum while he was "bored" at the beginning of the coronavirus pandemic in early 2020.
The apparent manifesto espouses the "great replacement" conspiracy theory that falsely alleges Jews are working to replace white Americans with people of color. It also says Buffalo was targeted because it's the city with the most Black residents that's nearest to the author's residence.
Law enforcement officials have not verified the author of the manifesto.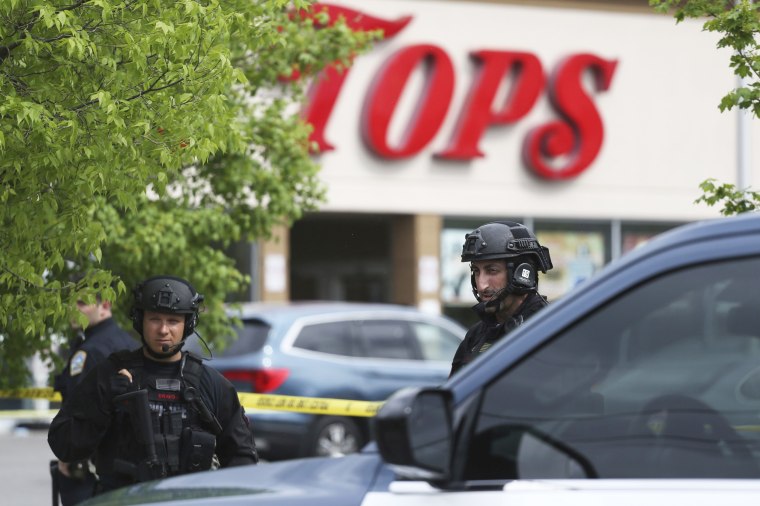 Brian Levin, director of the Center for the Study of Hate and Extremism said in a tweet that Saturday's shooting appeared to be the worst hate-based mass shooting in the nation since the mass shooting in El Paso in 2019, when 23 people were killed and numerous people injured at a Walmart.
In New York City, police said houses of worship would be the focus of extra vigilance.
"While we assess there is no threat to New York City stemming from this incident, out of an abundance of caution, we have shifted counterterrorism and patrol resources to give special attention to a number of locations and areas including major houses of worship in communities of color," said Sgt. Brendan Ryan.
President Joe Biden was briefed on the shooting by his Homeland Security adviser, White House press secretary Karine Jean-Pierre said.
"The President and the First Lady are praying for those who have been lost and for their loved ones," she said in a statement.
The NAACP of Buffalo said in a statement, "We are praying for the victims of the senseless act of violence the taken place in our community."
Tops Friendly Markets spokeswoman Kathleen A. Sautter said in a statement, "We are shocked and deeply saddened by this senseless act of violence and our thoughts and prayers are with the victims and their families."
"Our top priority remains the health and well-being of our associates and customers," she said. "We appreciate the quick response of local law enforcement and are providing all available resources to assist authorities in the ongoing investigation."
Brown, the mayor, urged the Buffalo community and the nation not to let the attack inspire further division.
"Many of us know those who are victims of this horrific crime," he said. "So this is painful."
He noted that Buffalo's motto is "City of Good Neighbors."
"We can't let an evil person divide this community and an evil person divide our country," Brown said.